By: Djesattler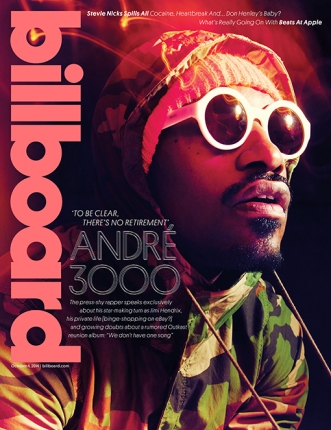 With OutKast's tour coming to an end this weekend and the Jimi Hendrix biopic, All Is By My Side hitting theaters today, 3 Stacks takes the cover of the latest issue of Billboard.
Excerpts from the cover story:
He Avoids Social Media
"Honestly, I don't have a big urge to voice [my feelings]," he tells Billboard. "But I do feel kind of guilty sometimes. Like when the whole Ferguson thing went down, we were actually in England, and buddies were telling me about it, like, 'Aw, man, it's horrible here.' But I didn't feel it; I only heard about it. So I felt like, 'Am I out of touch?'"
There's a Solo Album Coming…Eventually
While there's one in the works, he's not rushing it: "I haven't even started on [it]," says Benjamin. "I've got to find something I'm excited about."
He Might Do More Movies Just for the Hell of It
"I do read scripts," he says. "But I have to be excited about it to really fully throw myself into it. The older I get, I don't know what my decisions will be. I may start just taking roles just to support myself, just kind of keep busy."
He's Turned Down $100,000 Guest Verses
A rare Andre 3000 guest verse, which goes for at least $100,000, isn't a guaranteed thing: "[In some cases] I had to call them back and say, 'I'm sorry, I couldn't come up with nothing cool.'" We'd probably beg to differ.
Retirement Is Not an Option
"To be clear, there's no retirement," Benjamin says of his rap career. Which, obviously, is a relief.