By: Djesattler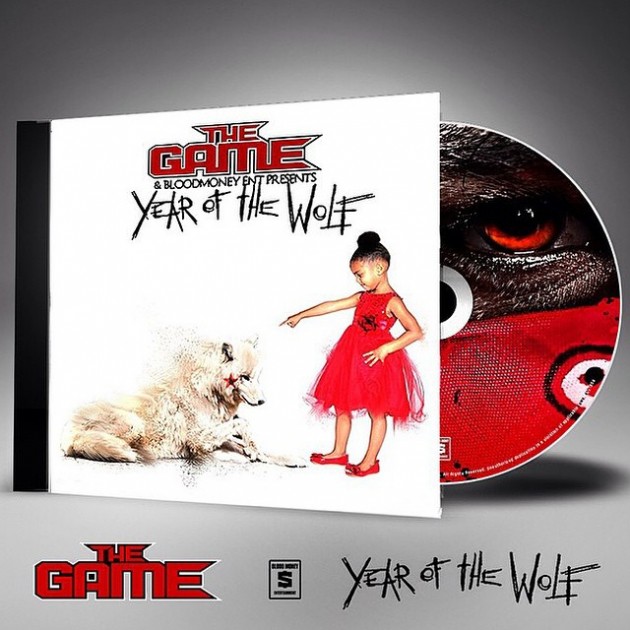 Instead of hiring a graphic company, Game allowed his fans to design the cover of his upcoming album, Year Of The Wolf. After hundreds of submissions, he chose Instagram user xoramos661′s illustration of a wolf and his daughter, Cali. On his Instagram page, he explained why decided to go with cover.
In the end it was the concept (the world sees me as a big bad wolf but to my daughter @littlemisscali I'm just dad & her every wish in life is my command), simplicity & white background & Documentary style font had me sold.  
As a consolation to the other designers, he used another submission as the face of the CD. The album drops October 14, but check out the tracklist below.
1. Bigger Than Me (Prod. By Mosley)
2. F You Ns (Prod. By Mathhew Burnett)
3. Really Feat. Yo Gotti, 2 Chainz, Soulja Boy & T.I. (Prod. By Mekanics)
4. Fuck Your Feelings (Prod. By Ocean and Nova)
5. On One Feat. King Marie & Ty Dolla Sign
6. Married To The Game Feat. French Montana, Dubb, Sam hook (Prod. By Boi-1da)
7. The Purge (Prod. By Cozmo)
8. Trouble On My Mind (Prod. By Pat O)
9. Cellphone Feat. Dubb (Prod. By Mekanics)
10. Or Nah Feat. Too Short, Problem & AV (Prod. By DJ Mustard)
11. Best Head Ever Feat. Tyga & Eric Bellinger (Prod. By League Of Starz)
12. Hit Em Hard Feat. Bobby Shmurda (Prod. By Amadeus)
13. Food For My Stomach Feat. Dubb & Skeme (Prod. By Duke Dinero)
14. Black On Black Feat. Young Jeezy and Kevin Gates (Prod. Mekanics)
15. Be Nobody Else (Prod. By Sap)
16. Mad Flows Feat. Skeme (Prod. By ReyReel)
17. I Just Wanna Be Feat. Stat Quo & Sap (Prod. By Sap)
18. Take That Feat. Tyga & Pharaoh
19. Bloody Moon (Outro) (Prod. By Nottz)
20. Time And Space Feat. Grae (Prod. By Grae)